B.Voc in Hotel Management
B.Voc In Hotel Management course focuses on operational skills, nurturing food, beverage, and accommodation management to the students. The course includes the study of principles of Hotel Management, Tourism and Travel Management, Food and Beverage Service, Food Production, Front Office, Housekeeping, Computers, Financial Management, to provide qualified and technical personnel for the Catering, Hotel, Travel and Tourism Industry, etc. The basic objective of the programs is to provide the necessary knowledge, skills, values and attitudes to occupy key operational positions in the hospitality industry. The Hotel Management and Catering Science course include industrial exposure to hone the skills and techniques along with the classroom training. Catering is a multifaceted segment of the food service industry. There is a niche for all types of catering businesses within the segment of catering. During the course, students teach professional management techniques used in hospitality sector, which includes hotel administration, accounts, housekeeping, food and beverage management, marketing, front office etc.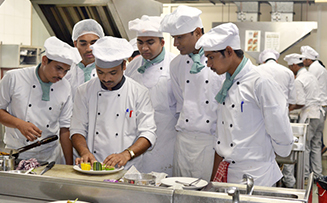 B.Voc in Hotel Management Course eligibility
Eligibility : 10 +2 Any stream with the 50% Marks

Duration : 3 years
Career path
The Course Provides An Opportunity To Acquire Knowledge And Skills To Explore Career Options In Various Hospitality Companies Around The World. The Course Assures For An Entry In Any Hospitality Industry At The Hospitality Operational Supervisory Position. Graduates Are Hired In Capacities Such As Hotel Management Trainee, Security Manager, Sales Manager, Reservations Manager, Service / Maintenance Supervisor, Revenue Manager / Reservations Manager, Hotel Maintenance Manager, Hotel Development Manager, Assistant Manager - Hotel Sales Restaurant Manager In Industries Like Hotels And Restaurants, Hospital Administration And Catering, Airline Catering And Cabin Services, Cruise Ship Hotel Management, Forest Lodges Hotel & Catering Institutes, Catering Departments- Shipping Companies, Banks, Armed Forces, And Railways, Hotel And Tourism Associations.